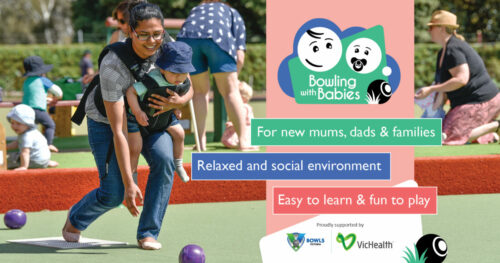 Mt Waverley BWB Poster November 2021
Bowling with Babies is a fitness and social activity that you can enjoy with your little one. Bowling with Babies brings new and expecting mums and parents together to enjoy a coffee, a chat and a social roll.
Supported by VicHealth, Bowling with Babies aims to assist new and existing parents to become more active and enable them time to focus on their physical well-being in a fun, relaxing and comfortable environment – with their baby.
Our club will be fully equipped for little crawlers on the green or along the bank! We will provide change tables, comfortable feeding areas, blankets and playpens. There will be plenty of time for babies to crawl on the green, and toddlers are welcome too. Other parents and club volunteers will assist to watch your child while you have a roll.
There's no pressure to bowl, just enjoying a coffee in the sun is fine too!
We are starting on Thursday 25th November 2021 from 10:00AM to 11:30AM and we will run sessions every Thursday until the 16th December 2021
Register your interest at https://bit.ly/BWBregister
To learn more about Bowling with Babies, please visit playbowlsvictoria.com.au